Something for Valentines?
Michele here with a quick make in honor of "LOVE"... a small wall hanging and showing love isn't only for Valentines Day. I found a perfect little slice of wood, it spoke to me and I just had to create with it!!
Step 1 Stamp image on wood and add detail
I stamped with some Viva Las VegaStamps! images and colored directly onto my slice of wood. I also hand stamped the word love and rubbed a bit of Archival Ink in the impression. **You want to be sure that the wood is completely dried out and free of moisture before moving on to next step.
---
I used Amazing Clear Cast Resin to create a protective layer over my stamping and to make it seem like it was a painting under a piece of glass. The Amazing Clear Cast Resin brought out the beautiful details of the wood – look at that heathering in the bark... WOW!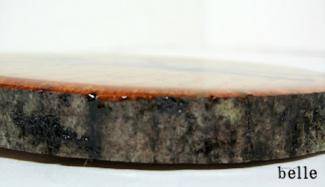 ---