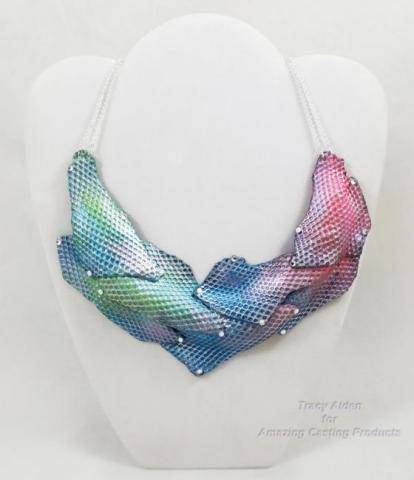 Get ready to flip your fins for this mermaid inspired necklace
Hello! Tracy here with a tutorial using Amazing Casting Products and PolyForm Products! A great inspiration for my art is looking for and finding textures to duplicate and/or mold. While my project might look like something from the sea it started in my office. Join me I as I use Amazing Mold Putty to transform this lovely pattern to polymer clay and create a necklace fit for a mermaid!
Amazing Mold Putty
AlumiDust
Alumilite Metallic Powder
Polymer Clay
Craft Crystals
Jewelry Chain
---
Step 1 Create texture stamp pad
My metal pen, paper and paperclip holder is made out of mesh, a delicate diamond pattern, reminiscent of tiny fish scales. I mixed up some Amazing Mold Putty and applied it to the largest open part of the mesh office supply holder. I was careful to press the Mold Putty through the mesh to get detail, but not too far that the mold putty would seep through creating weak points and holes in the mold.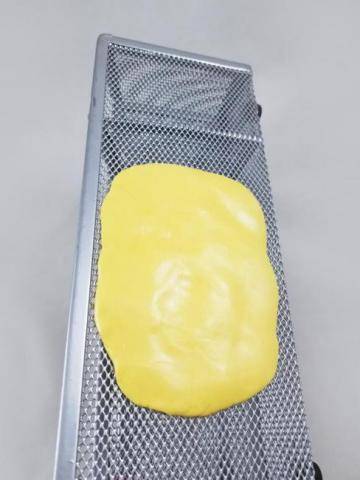 Step 2 Cure stamp pad before use
In about 15 minutes, the Mold Putty is cured, and I carefully peel it off the wire mesh. Now I have a perfect texture plate that has a close resemblance to tiny fish scales.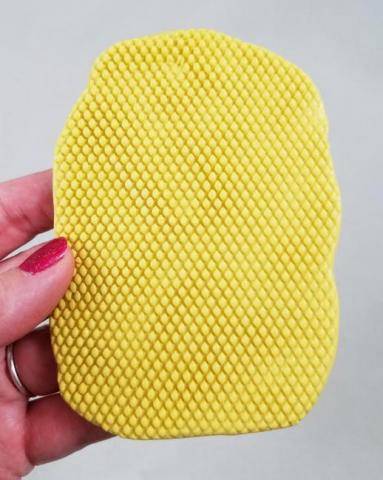 Step 3 Prepare clay colors
Using a pasta machine (devoted to craft use only) set on the thickest setting, I conditioned some Premo Accents Translucent polymer clay. I added the translucent clay to one half of the Bright Green Pearl, Sunset Pearl, Peacock Pearl Premo Accents polymer clay.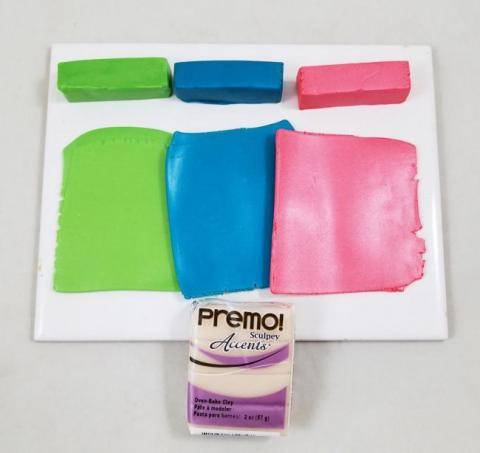 Step 4 Wedge clay colors together
Next I cut my conditioned clay into wedges and pushed the edges together, creating the start of an Offset Skinner Blend technique. This technique was developed by a talented polymer clay artist named Judith Skinner and creates a stunning and smooth blend of colors in polymer clay when clay is cut into triangles and then run through a pasta machine multiple times. I purposefully offset and trimmed my triangles to create areas of pure unblended color with the blended portions, giving a more vibrant contrast in the final blend.
If you are new to trying a technique try it first with scrap clay to practice. Polyform Products has great video on how to create a Skinner Blend HERE.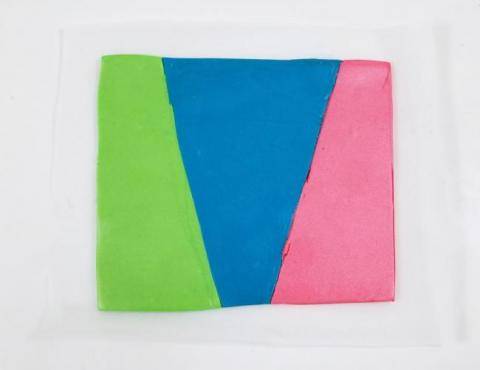 Step 5 Run clay through pasta machine
Using the thickest setting of the pasta machine, I inserted the clay sheet, with the edge of of all three colors first to ensure all the seams are pressed lightly together. I catch the clay sheet as it comes out of the pasta machine, fold in half, top to bottom – making sure to match the colors on the sheet edges and then once again run it through the pasta machine. I repeated 10 more times, folding and rolling the clay sheet in the same direction.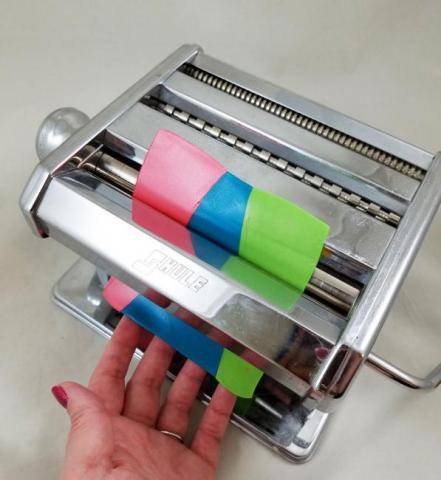 Step 6 Results of combining clay
The resulting gradient of colors from 10 fold-and-roll passes through the pasta machine. I wanted an even smoother transition of colors, so I ran the clay sheet a few more times through the pasta machine.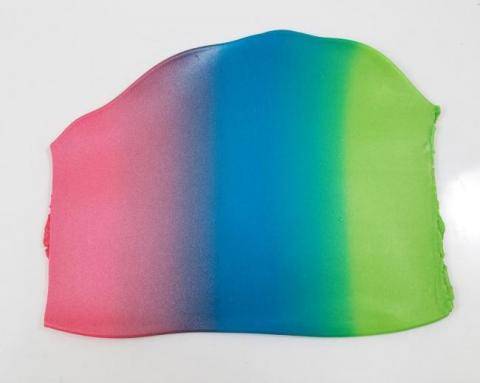 Step 7 Cut clay into small pieces
With the desired blend achieved, I carefully tore the gradient piece of clay into smaller pieces. This might seem a bit odd to do after all of the hard work getting a smooth gradient but stay with me!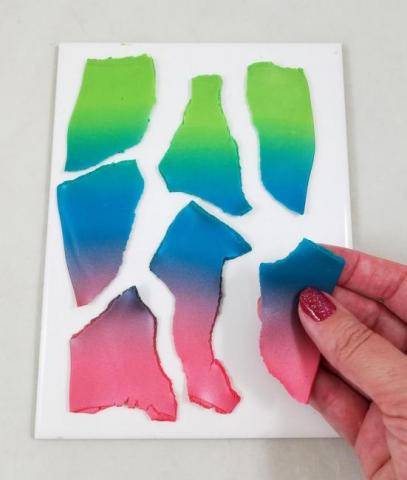 Step 8 Create texture on clay pieces
One at a time I place each torn piece of clay onto the custom Amazing Mold Putty mesh texture plate and roll with an acrylic roller – using a firm but consistent motion, careful to get as much texture as possible impressed into the soft clay.
Step 9 Place pieces together
I then place each textured piece of clay on top of each other in a semi-circle shape, pressing lightly at the edges to help stick each piece together. Then using a small stylus, I fix any portions of the clay that didn't get a complete impression of the texture plate and pressed the edges more firmly together in the scale-like indents.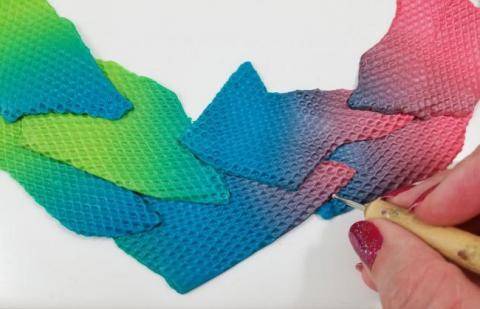 I twisted up half a paper towel into a tube shape, curved it into a semi-circle and placed in on the a ceramic tile. I then carefully removed my curved clay piece off the tile and laid it on top of the twisted paper towel, pushing the clay sides down every so slightly creating a raised portion. The raised form would give the clay more dimension and allow for a more dynamic application of metallic powders.
I dipped my finger in some Silver Alumilite Metallic Powder and gently ran my finger across the raised textured surface of the clay, highlighting the scaled texture. Using a soft makeup brush I applied Interference Red and Green Alumidust into the lower portions of the scale texture on the clay. I applied only a very small amount of the Black Alumidust to the edges of the clay. The powders bonded to the uncured polymer clay without the addition of a glue or sealant.
I made two holes on the top left and right of the necklace with a stylus; these would become holes to place jumprings and chain through once the clay is cured.
I then put the tile with the clay necklace into a toaster oven, heated per manufacturer instructions, to cure.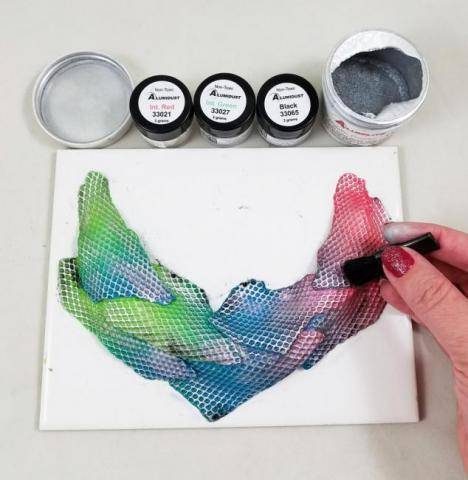 I paint on a coat of gloss Sculpey Glaze over the cured piece of clay and let it dry per instructions. I added flatback crystal rhinestones adhered with Beacon's Gem-Tac glue on the edges of the scales and then add jumprings through the two holes on each side to attach jewelry chain. This stunning necklace is ready to wear!